TAICCA and Produire au Sud Partner to Prepare Taiwanese Film Projects for Global Market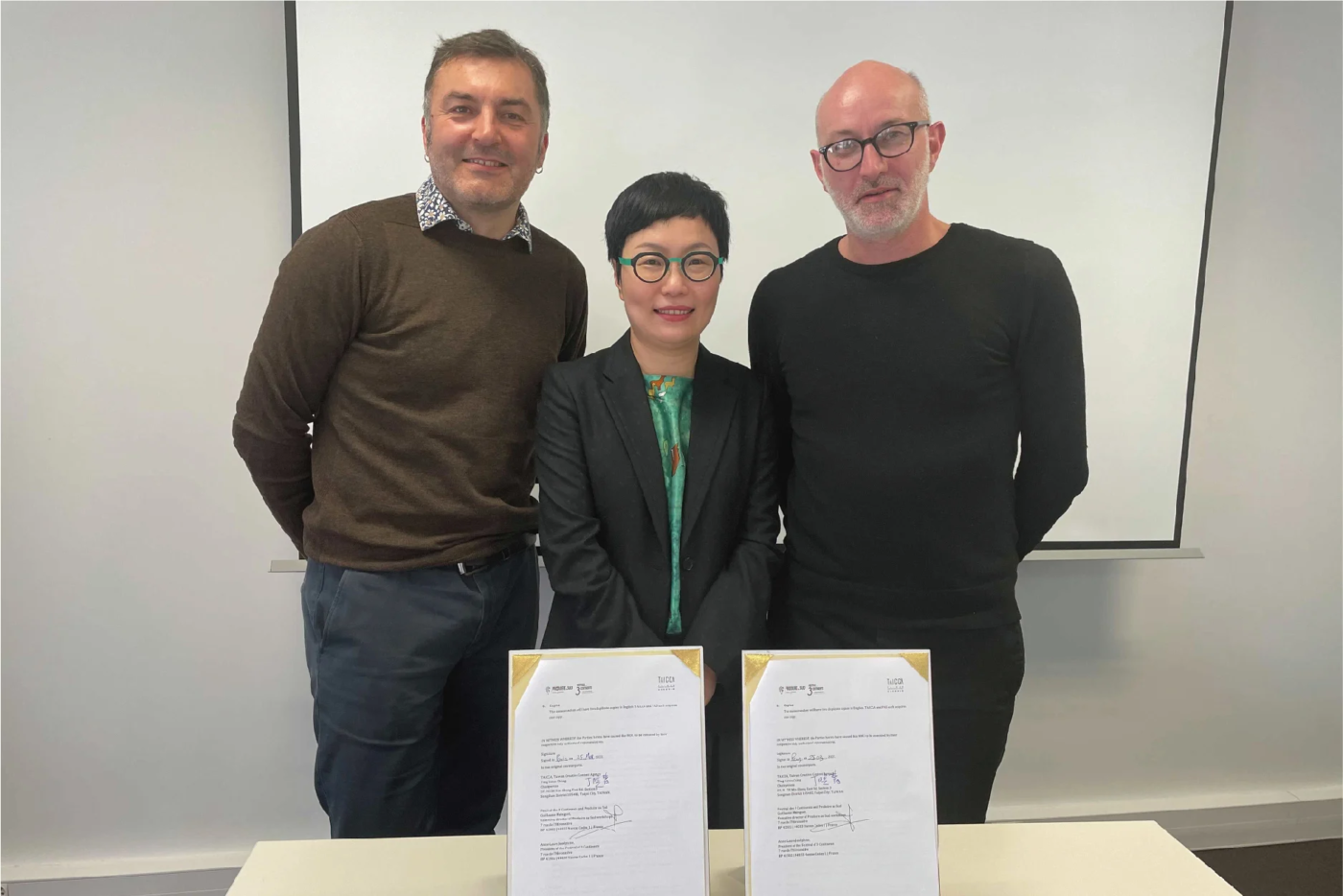 Taiwan Creative Content Agency (TAICCA) signed a memorandum of understanding with Festival des 3 Continents / Produire au Sud on March 25th. This cooperation will connect Taiwan to international talent development and exchange networks, and bring Taiwanese films closer to global markets. Along with other international programs, such as Series Mania, TAICCA will accompany audiovisual creators in Taiwan along the way, from development, pitching, fundraising, matchmaking, to production. Creators will know more about global trends and market preferences, and access to international channels among Taiwan, Europe, and Southeast Asia.
TAICCA Chairperson TING Hsiao-Ching (Left) signed the MOU with Produire au Sud Executive Director Guillaume MAINGUET (Right).
TAICCA Chairperson TING Hsiao-Ching signed the MOU with Produire au Sud Executive Director Guillaume MAINGUET. "This agreement will facilitate Taiwanese industries towards international markets," said TING. With mentors from various international organizations, participants will enhance practical skills at each stage of their career. When they bring their projects to either Taiwan Creative Content Fest (TCCF) by TAICCA, or other key markets around the world, they will be more prepared to pitch to international investors, and increase global market shares for Taiwanese films. "This workshop with TAICCA will be designed according to international fundraising norms for films", said MAINGUET. "In the long run, professionals in Taiwan and Europe can elevate their experiences, and transform Taiwan as an audiovisual creative hub in Asia."
Produire au Sud Executive Director Guillaume MAINGUET, TAICCA Chairperson TING Hsiao-Ching and Les 3 Continents Artistic Director Jérôme BARON (From left to right).
TAICCA and Produire au Sud will organize a workshop together for Taiwanese audiovisual teams. Produire au Sud will recommend international consultants to discuss with producers and filmmakers, in order to identify suitable markets and fundraising scales. These teams will also have access to programs by TAICCA and other international organizations. As they polish pitching skills and learn about market trends, participants will increase their opportunities for international co-productions.
Other international collaborations by TAICCA include "Ties That Bind for European-Asian co-productions with European Audiovisual Entrepreneurs", and showrunner workshops with La Fémis in France.
TAICCA designs the CCDP (Creative Content Development Program) and TICP (Taiwan's International Co-funding Program) to support these selected teams. Their projects with international potential will be sent to key markets for pitching and fundraising. TAICCA will also invite potential investors and professionals via Festival des 3 Continents to TCCF, in order to maximize European-Asian co-productions.
Started in 2000, Produire au Sud is a part of Festival des 3 Continents to support emerging film production professionals in Asia, Africa, and Latin America. It empowers film projects with international co-production potential. This program has been held in Morocco, South Africa, Thailand, India, and Israel, among other countries.